Reconsidering Floriano Canale's works and the role of Canons Regular in the late Renaissance
2014/07/03-06
Department of Music · University of Birmingham (UK)
Palma Choralis® · Research Group
Marcello Mazzetti
Livio Ticli
We presented this paper at the Med-Ren 2014.
Abstract
It has been 30 years since our late lamented Oscar Mischiati highlighted in his studies the importance of carrying on with research on music and musical context of Ss. Salvatore's Canons Regular. Responding to his invitation, our paper aims to: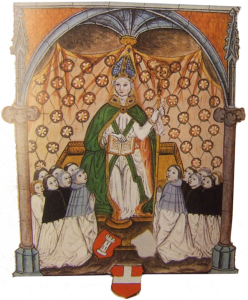 1.1) Fill the still existing bio- and bibliographical gap (e.g. the Venetian period of education between 1559 and 1563) about the multifaceted figure of Floriano Canale (1541?-1616) – wrongly considered secondary relative to his contemporaries from Brescia and known almost exclusively from his instrumental work Canzoni da sonare a 4, et 8 voci;
1.2) Analyze F. Canale's motet-production paying particular attention to textual, stylistic and liturgical peculiarities of Sacrae Cantiones quatuor vocibus decantandae (1581) and performance practice issues with relation to first motet collections with Bassus pro organo.
2) In the light of Canons Regular patronage, so evident in the mid-16th cent. Venice – reconsider the figure of F. Canale and other musicians of the Congregation thanks to a systematic review of their artistic and musical productions through the new Corpus Canonicorum Regularium Ss. Salvatoris: a publishing project under the auspices of the Committee for the Celebration of the 4th Centenary of F. Canale's death (2016, Brescia, Italy) expecting to arouse intense interest and gathering new contributions among scholars.
This paper has been realized within our project Canons Regular Music and Liturgy (included in the Main Research Area Italian Sacred Music).