Palma Choralis… The New Renaissance experience!
An Early Music one-day Workshop with Marcello Mazzetti & Livio Ticli
Music Department · Early Music Studies
28 April 2016, University of Southampton (UK)
Contents: Guidonian hand and Renaissance Solmization · Cantus Figuratus · Rhythm, Melos and Memory · Improvisation and Performance practice.
Palma Choralis® · Research Group & Early Music Ensemble
Marcello Mazzetti & Livio Ticli
coordination · Prof Elizabeth Kenny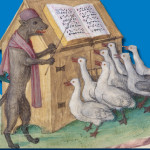 Session 1
Music Students, Undergraduates, Postgraduates are warmly invited
Seminar room, Department of Music (Building 2)
10.00-10.40 Welcome and informal chat with Palma Choralis · Research Group and Early Music Ensemble: introducing participants, piquing curiosities, watching and commenting multimedia of actual perfo...
[...] Read more!