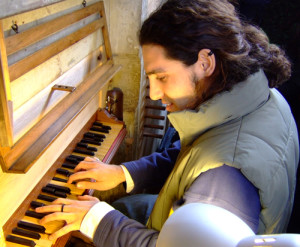 Background • Livio Ticli studied piano early keyboards, composition, performance practice, Renaissance and Baroque singing with some of the world's most renowned artists (M. Patuzzi, S. Molardi, L. Francesconi, E. Fadini, F. Tagliavini, M. Galassi, E. Kenny, J. Feldman, E. Kirkby). He explored vocal technique, plainchant and other vocal music (Byzantine chant, Tuvan throat singing) with S. Wilfart, G. Baroffio, A. Turco, S. Martani, A. Sirbu e R. De Cock. He depeened his knowledge of the Baroque music style, theatre, dance and historical acting with A. Gianese, R. Balconi, D. C. Colonna e I. Sainato. He graduated summa cum laude in Musicology (Pavia University) and Renaissance Polyphony (Civica Scuola di Musica Claudio Abbado, Fondazione Milano).
Performer • His multifaceted activity includes singing, historical keyboards, Renaissance arpa doppia, late-Renaissance dance, Baroque acting and gestures. Besides, as a singer he developed a specific vocal technique by which he performs the highest parts for male singers of the early repertoire and because of this he is often asked to perform Superius and Altus roles in Europe and overseas.
As a singer, player and maestro di concerto, he has been performing polyphony and solo repertoire with Palma Choralis · Research Group & Early Music Ensemble in Italy, Europe and the United States. He has been collaborating also with other renowned groups such as La Academia de los Nocturnos (ES), with which he recorded sacred music by Bernhard Ycart (fl. 1470-80) and Sebastián Durón (1660-1716) performing in Switzerland and Germany villancicos and Spanish devotional repertoire from the eighteenth century; Cantores Sancti Gregori (NL) for Franco-Flemish repertoire and music by Josquin in international festivals; Ars Lusitana (PT) for music by Manuel Cardoso (1566-1650) and from 16th-century Portugal; the Illuminati Vocal Arts Ensemble (MA, USA) with the madrigal and concertato repertoire between 16-17th centuries; the Folger Consort (Washington DC, USA) staging and excerpts from operas by Monteverdi and from the early Seicento. He took part in opera productions at the Teatro G. Borgatti (Cento, BO) and was an appointed singer of the Cappella Musicale at the Basilica di S. Maria Maggiore in Bergamo and of the Schola gregoriana Benedetto XVI in Bologna. He recorded for Cantores Sancti Gregori, AlmaLaurea, Classica dal vivo, Custos, Urania Records.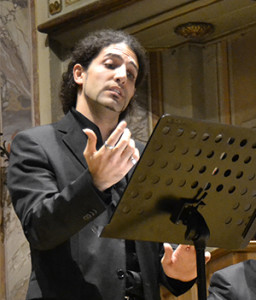 Researcher/Teacher • He deals with voice performance practice, ornamentation and improvisation, teaching, researching and presenting at Conservatories and Universities such as Vicenza Conservatoire, Parma Conservatoire, Reggio Emilia Conservatoire, Bologna University, Pavia University, Basilicata University, Bolzano University, Southampton University (UK), Huddersfield University (UK), State University of Massachusetts (USA), Mount Holyoke College and the Five Colleges Consortium (USA), the Folger Library (Washington DC, USA), Instituto de Artes-São Paulo (BR). He was twice (2016, 2018) Visiting Fellow at the Massachusetts Center for Interdisciplinary Renaissance Studies (Amherst, USA).
He published in scholarly journals such as Rivista Internazionale di Musica Sacra, Philomusica on-line, Italique · Poésie italienne de la Renaissance and in books published by FrancoAngeli, Libreria Musicale Italiana, Morcelliana, LeMus, Brepols, Carocci. He collaborates with the series Musiche del Seicento (LIM) for Fondazione Arcadia (Milano) and is the general editor of the series Antichi Maestri (LeMus, Rome) and a member of the editorial board of the Tasso in Music Project, a digital critical edition promoted by the University of Massachusetts and Stanford University.
Artistic Director/Manager • Besides working as a scholar, teacher and musician, he has been designing and organising cultural events with a special interest in the close relationship between music, arts, poetry and theatre. He has been artistic director of international festivals  such as Conditor alme siderum (2011-14), Canale Festival (2014-16), BIEMSSF · Brescia International Early Music Summer School & Festival (2017-oggi), Tasso Music Festival (2018-19).
Recent Activities • In 2016 and 2018, he was Artist in Residence at the Folger Theatre (Washington DC, USA). He has recently presented his practice-based research on vocality, music pedagogy and the role of the singer-player between sixteenth and seventeenth centuries at prestigious institutions such as Schola Cantorum Basiliensis (CH), Edinburgh University (UK), Società Italiana di Musicologia, Saggiatore Musicale (Bologna), Università Pontificia Salesiana in Rome, Padua University (projects: Lost Voices, Libro di Poesia nel Cinquecento), and the Fondazione Guido d'Arezzo.
Amongst recent productions and engagements, there are the premiere for the Tasso and Music Symposium (University of Massachusetts, USA), a master class in vocal music for MOMUA · Festival Molina Música Antigua (ES) and a USA tour including Il Combattimento di Tancredi e Clorinda at the Folger Theatre (Washington DC, USA) and other Baroque music programmes in New York, Boston, Massachusetts (Binghamton University, Colgate University, New England Conservatory, Massachusetts University, Mount Holyoke College). He was co-organiser and a Programme Committee member of the four-day international symposium «The Figured Bass Accompaniment in Europe» organised by Centro Studi Opera Omnia Luigi Boccherini (Lucca), Palma Choralis · Research Group and Brescia Early Music Department.
Since 2021-22, he has been teacher of vocal chamber music at the international Sarteano Chamber Choral Conducting Workshop. Since 2015, he has been co-chairing Brescia Early Music Department together with Marcello Mazzetti, where he currently teaches Medieval, Renaissance and Baroque Singing, Vocal Coaching, Ornamentation, Improvisation and Basso Continuo.