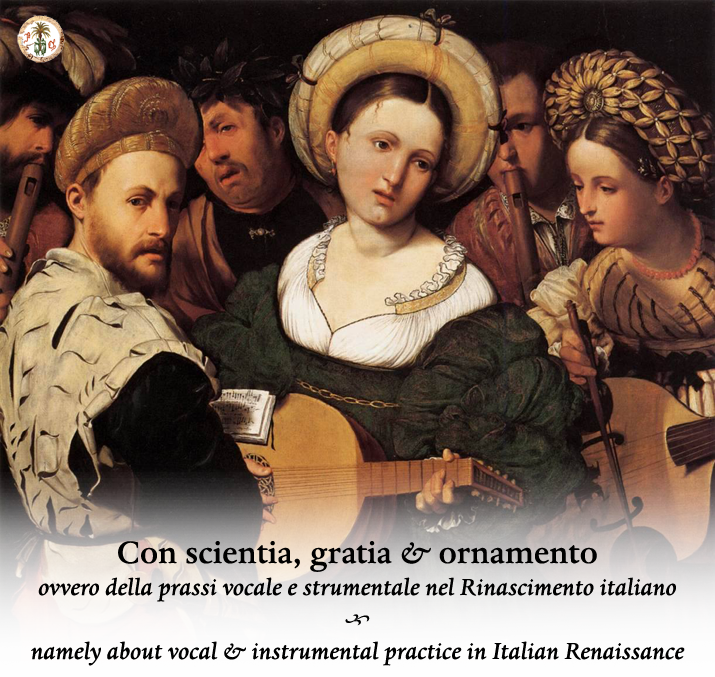 The concert presents an unknown itinerary through Italian Renaissance secular repertoire (16-17th cent.) when compositional artifice and virtuoso performance attended upon affetti of poetical texts. The versatile performers, both singers and players, aim to show on the one hand the different (vocal and instrumental) possibilities offered by the repertoire, on the other hand the total supremacy of vocal virtuosity that becomes expressive model «per tutte le sorti di stromenti» (for every kind of instrument). In addition, the program numbers some V. Galilei's works as a homage to the 450th anniversary of his son Galileo's birth.
MUSIC BY: G. Caccini, G. M. da Crema, V. Galilei, J. Nauwach, F. Rasi, R. Rognoni, C. De Rore, C. Saracini et al.
 Il concerto propone un inedito itinerario nel repertorio profano italiano dei secoli XVI-XVII ove l'artificio compositivo e il virtuosismo esecutivo si pongono al servizio degli affetti del testo poetico. La versatilità degli esecutori, entrambi cantori e strumentisti, intende mostrare da un lato le molteplici possibilità esecutive (vocali e strumentali) che offre il repertorio e dall'altro il primato rivestito dal virtuosismo vocale che diviene modello espressivo per tutte le sorti di stromenti. Il programma annovererà, altresì, alcune opere in omaggio alle celebrazioni per il 450° anniversario della nascita di Galileo Galilei.