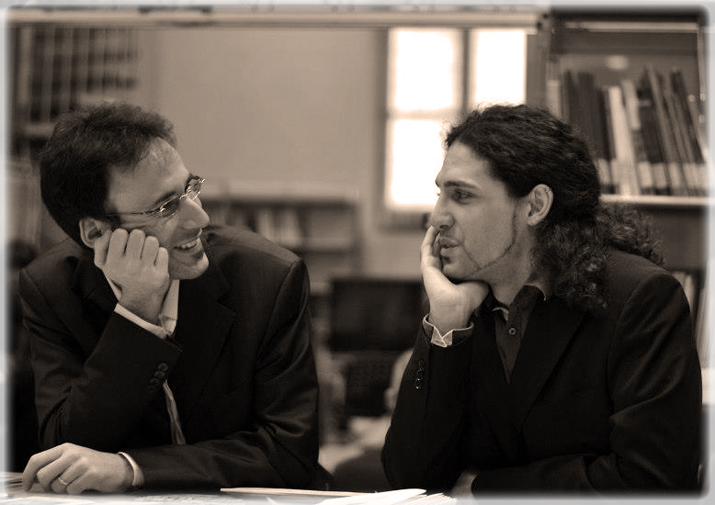 Palma Choralis Duo's strong point is surely the team spirit between Marcello Mazzetti and Livio Ticli after they have daily faced together over 10 years of music and musicological research, culture management, theatrical music performances and wide-ranging projects about Medieval and Renaissance repertoire.
So, in these hard times for cultural assets, the best choice is to count on a firm line-up, hold together by common goals and wide experience in cooperation with local authorities, public institutions, ecclesiastical bodies, artists agencies and private clients.
The Duo has designed many musical programs as a result of historical, philological and musicological research leaded by Palma Choralis. The Duo's repertoire searches for a balance between tradition and innovation and ranges from middle-byzantine and western medieval liturgical chants (Gregorian, Old Roman, Beneventan, Ambrosian traditions, etc.) to early 17th cent. sacred and secular works for voices, instruments and basso continuo.
To offer a varied and suitable repertoire for every event, Palma Choralis Duo has available a wide set of copies from period instruments: 6-courses lute, trapezoidal plucked psaltery, Renaissance gamba, Italian double harp, recorder, harpsichord and organ. The Duo finds teachings from early Pedagogy are still nowadays of great importance: a deep knowledge in singing is the basis for bringing virtuoso skills to different instrumental techniques.
Therefore Palma Choralis Duo proposes programs that are based on historical accuracy mixed up with a striking sound and intimate atmospheres created both in concert halls and majestic cathedrals.