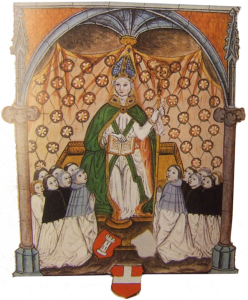 Canons Regular Project
This project area (included in the Main Research Area Italian Sacred Music) focuses on the role of music within the Canons Regular paying particular attention to their artistic patronage, the musicians belonging to the different Congregations, the liturgy of the particular churches (ecclesiae particulares) and, generally, to the Canons' efforts in developing arts between Middle Ages and Renaissance.
---
Related material
Publications
Mazzetti, Marcello, and Livio Ticli. 'Le Sacræ Cantiones a 4 voci di Floriano Canale (1581)'. Edited by Maria Teresa Rosa Barezzani, Antonio Delfino, and Rodobaldo Tibaldi. Rinascimento musicale bresciano. Studi sulla musica e la cultura a Brescia tra il Quattrocento e il Seicento, Philomusica on-line – Journal of the Musicology and Cultural Heritage Department, University of Pavia, Italy, 15, no. 1 (2016): 701–58. http://dx.doi.org/10.6092/1826-9001/15.1805.
Mazzetti, Marcello, and Livio Ticli. 'Reconsidering Floriano Canale's works and the role of Canons Regular in the late Renaissance', Rivista Internazionale di Musica Sacra, I–II, no. 35 (2014): 199–224. https://www.lim.it/it/rivista-internazionale-di-musica-sacra/5043-reconsidering-floriano-canale-s-works-and-the-role-of-canons-regular-in-the-late-renaissance-9788870967906.html
Online resources
Related projects
- Floriano Canale Festival (Brescia, Italy)
- Latest news about Floriano Canale