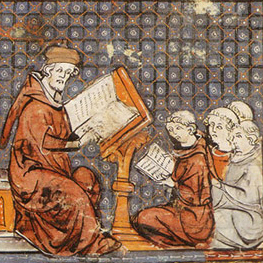 This Main Research Area consists of several projects focused on issues related to Early Music Pedagogy and their connection with those theoretical systems.
Indeed, performers and researchers are now used to focus on the Historical Informed Performance Practice (HIPP) which means (or should mean) that an Early Music performance or project has been designed and developed according to the complex of precepts, records and iconography we can still understand and look at. In fact, we realise that making Early Music cannot be limited to apply a list of precepts or perform in a historic building or just with copies of original instruments: one of the most sizeable issue we face studying and performing Early Music comes from our music training which is considerably different from a singer or player from Middle Ages, Renaissance and even Baroque era.
The Early Music Pedagogy research area aims to study all sources from 1470 to 1740 which can inform us on music training, methods to teach and learn music techniques and tools as well as when/where professionals or amateurs could employ them (contexts).
Further, this Main Research Area aspires to put into practice the results of this survey developing syllabus and methods, designing new educational pathways for students in (Early) Music.
For each one of the projects in this Main Area we flag any post related to the corresponding topic.
---
Projects

• Music Improvisation as a key-tool of Early Music Pedagogy
• Guidonean Hand and Renaissance Solmization as a child-friendly approach to (Early) Music
• «Ex ore infantium». Discovering Music through Early Music Pedagogy