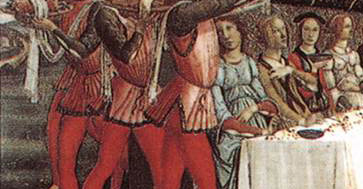 Summer Feast at Pallavicino's court
2014-06-28 – h. 20.00-24.00
Agriturismo at the foot of Piacenza hills (Piacenza, Italy)*
Summer Banquet composed of 3 'cupboard-courses', 2 'kitchen-courses' and 4 musical, theatrical and dancing interludes, in cooperation with «La Parma».
Banchetto d'estate con tre servizi di credenza, due servizi di cucina e quattro intermedi di musica, teatro e danza. Evento in collaborazione con «La Parma».
MUSIC AND DANCES BY / MUSICA E DANZE DI: Orazio Vecchi, Emilio De' Cavalieri, Johann Hieronymus Kapsberger, Giulio Caccini, Bellerofonte Castaldi, Fabrizio Caroso…
TEXTS BY / TESTI DI : Ludovico Ariosto, Torquato Tasso, Marcantonio Vasio, Giovanni Francesco De' Bianchi, Matteo Maria Boiardo…
*
Private event – entrance by invitation.

 Evento privato – ingresso su invito.