EVENTO RINVIATO A DATA DA DESTINARSI
Presentazione dell'edizione critica e del Corpus Canonicorum Regularium Ss. Salvatoris
2015-02 (data e orario da definire)
Biblioteca Statale (Via Ugolani Dati 4, Cremona, Italy)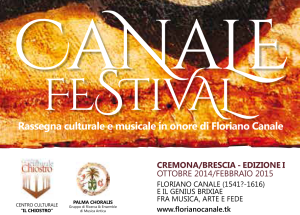 Saranno presenti i curatori del volume
Dr. Marcello Mazzetti Musicologo e Musicista – Palma Choralis® Gruppo di Ricerca
Dr. Livio Ticli Musicologo e Musicista – Palma Choralis® Gruppo di Ricerca
A seguire intrattenimento musicale con musiche di  Floriano Canale ed altri musicisti bresciani.
Musiche di F. Canale e V. Bona, musicisti a Brescia fra Cinque e Seicento.
Ensemble vocale e strumentale Palma Choralis
Maria Chiara Di Gregorio, Isabella Di Pietro, Graziano Ghisolfi – Cantores
Marcello Mazzetti – Direzione, Viola da Gamba e Voce Solista
Livio Ticli – Direzione, Organo e Voce Solista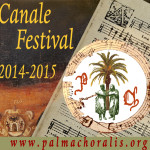 Evento all'interno del Canale Festival · Rassegna culturale in onore di Floriano Canale: world premiere of vocal and instrumental music by Floriano Canale, organist and composer from Brescia.
Evento realizzato da Centro Culturale "Il Chiostro"
in collaborazione con:
Biblioteca Statale · Cremona
Palma Choralis® · Research Group & Early Music Ensemble
Accademia Apiarium
Info
www.palmachoralis.org
www.facebook.com/PalmaChoralis (Evento Facebook)