Messa ed elevazione musicale in attesa del Natale
18 dicembre 2021 – h 18.00-19.00
Chiesa S. Zeno al Foro (Piazza del Foro, Brescia, Italy)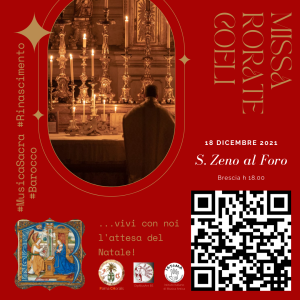 Voci e strumenti degli allievi
Dipartimento Musica Antica Brescia · Istituto Italiano di Musica Antica
in collaborazione con Palma Choralis®
Docenti
M° Marcello Mazzetti, M° Livio Ticli
Messa in latino per la IV Domenica di Avvento e concerto di Natale degli studenti presso la Chiesa di S. Zeno al Foro (vedi l'album fotografico). La messa sarà celebrata in Vetus Ordo e seguiranno alcuni brani devozionali a tematica natalizia.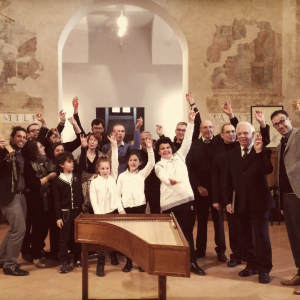 La musica in programma avrà un particolare focus sugli autori della Venezia di Terraferma. Verranno eseguiti brani del primo Cinquecento (Missa super Baisez moy di Pietro Rosselli), della fine del Cinquecento (mottetti polifonici di Giovanni Matteo Asola) e dei primi decenni del XVII secolo (Floriano Canale e altri brani inediti manoscritti).
Musica
Canto gregoriano e brani polifonici di Pietro Rosselli, Giovanni Matteo Asola, Valerio Bona, Floriano Canale ed altri autori bresciani dei secc. XVI-XVII.
---

 Latin Mass and Christmas Concert of the students – Dipartimento di Musica Antica "Città di Brescia" · Istituto Italiano di Musica Antica.
Teaching Staff – Marcello Mazzetti, Livio Ticli
The Latin Mass takes place in a breathtaking church – Chiesa di S. Zeno al Foro with gregorian chant and polyphonic music by G. M. Asola, V. Bona, F. Canale e other Brescian composers from 16-17th centuries.
THE COURSES http://www.palmachoralis.org/?p=5526
Activities including Historical Singing, Ensemble Music for Voices and Instruments, Workshops and Seminars on specific topics. At the end of every academic year, students have the opportunity to perform in unique locations and with historical instruments.
---
@cantorferrariensis
@liviocantorino
#PalmaCHoralis
#TheNewRenaissanceExperience
#CultivatingTalentsWithPassion
#AnticaMusicaModernaPratica
#ilRinascimentoèqui
#Rinascimento
#BIEMSSF
#RinascimentoBresciano
#PalmaCHoralisforBrescia
#MakeBresciaGreatAgain
#EarlyMusicBrescia
Palma Choralis · Research Group & Early Music Ensemble
Dipartimento Musica Antica Brescia
Dipmusant Brescia
Brescia International Early Music Summer School & Festival
»INFO


  www.PalmaCHoralis.org/Dipartimento-Musica-Antica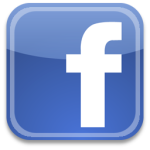 fb.com/EarlyMusicBrescia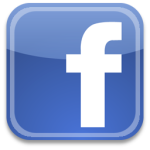 Facebook Events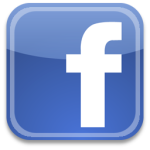 fb.com/PalmaCHoralis


 twitter.com/PalmaCHoralis


 instagram.com/PalmaCHoralis


 youtube.com/PalmaCHoralisOrg
»MEDIA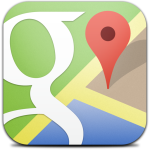 Sedi delle Attività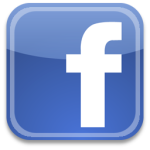 Photo Albums